Customer feedback 1: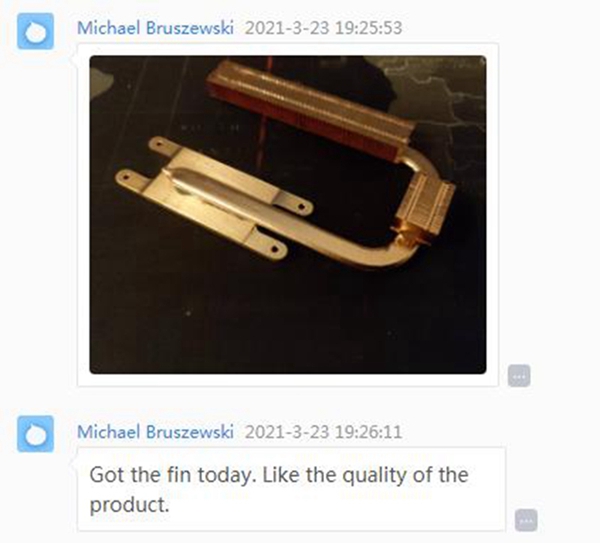 Copper buckle fin heat sink
We designed according to customer's product, and they fit it perfectly well and test its thermal cooling data is also reached the effect of what they needed it, very thankful for cooperating together and wish we can serve him for more projects and we can do the win-win business more in our near future.
Customer feedback 2: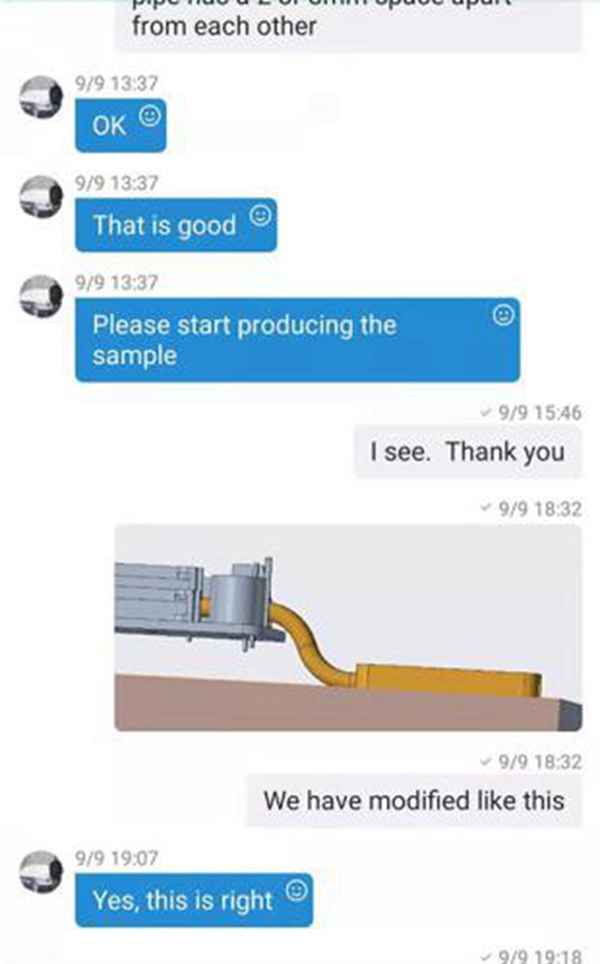 Copper heat pipe heat sink plate
We have experienced engineers for designing 3d model of heat sink for our customer, for better overall viewing of heat sink products, our heat sink necessarily need the 3d drawing and sent to the customer, they check every structure in details and evaluate whether is suitable for their product. We are glad for offering solution and very grateful that our customer trusted us and gave us a chance for cooperation together. I believe we can do business in a long-term way and be happy to be a friend in our daily life as not only a business partner, but also a close friend we share with happiness.
We nowadays has already produced the heat sinks, heat pipes, water cold plates for our customers, both in samples and bulk order, we got the feedback and repurchased order in the following days, as we believe we have good ability for offering good performance of heat sinks and water cold plates, so that's why we are confident and promise our customers we are suitable supplier for you, our main business slogan is offering better quality product, make a good design for saving your cost of heat dissipating products, and make higher value of service. At present, we have shipped our heat sinks and water cold plates to the many of countries, such like Germany, Russia, Italy, South Africa, India and Australia, USA and Canada. We want to develop more and more market as the thermal product is common and popular among many fields of high technology. Such like Communication devices, mobile phones, Laser equipment, Medical instruments and Led range. There are more of Market share are beyond your imagination.