Extruded heat sinks are the most common heat sinks used for thermal management today. They are manufactured by pushing hot aluminum billets through a steel die to produce the final shape. The most common aluminum alloy is 6063-T5, but other 6XXX alloys can also be examined as needed. When the material is extruded, the initial sticks are 30-40 feet and length and are very soft. The material is stretched by grabbing both ends to produce a straight stick. After stretching, the material can be either air or over aged depending upon the required final hardness of the material. After the aging process, the material is cut to the final length and any final fabrication (holes, pockets, or other secondary machining) can be done.
Extruded heat sinks are usually supplied with a "finish", such as anodizing, which can enhance its thermal performance. The heat sinks can also be supplied with a chromate finish, which provides some corrosion protection, or can be used as a primer before a final paint or powder coating is applied. While each extruded shape is unique to the requirements that it was designed for, extruded heat sinks are the most cost-effective cooling solution. Each shape is engineered to achieve the optimal thermal and structural performance
fabrication methods.YY thermal produces a wide variety of Standard Extruded Heat Sink options forbetter solutions optimized for board level devices like TO packages, BGA/FPGA devices, and even CPUs & GPUs. These standard heat sinks are available with different mounting methods and some come with pre-applied thermal interfaceor phase changematerials to streamline assembly into your PCB.
Standard Extruded Heat Sinks are pre-cut and finished heat sinks that typically include installation hardware. Standard Extruded Heat Sinks include finished flat back, double sided with gaps, or Max Clip™ extrusions typically meant for board level cooling.
We can produce DC/DC Converter heat sinks are designed to cool half, quarter and one-eighth brick sizes. To streamline assembly, each DC/DC Converter heat sink has standard mounting holes and pre-applied thermal interface material.
For applications that require more customization, we utilize our broad extrusion profile library to develop custom and semi-custom air cooled solutions. extruded heat sink profiles range from simple flat back fin structures to complex geometries for optimized cooling. Alloys 6063 and 6061 are our most commonly featured aluminum alloys for high thermal conductivity.
For rapid thermal modeling and comparison of multiple heat sink constructions please contact us and we also can offer you service with designing tool.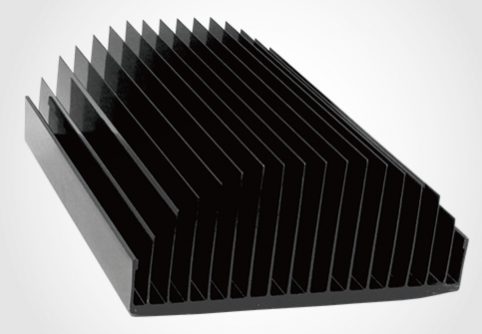 So what is production process for the aluminum extrusion heat sink?
The aluminum extrusion heat sink is melted at a high temperature of 660°C through an aluminum extrusion die, heated to 450-500°C, sent to the extruder, and extruded in the die. The material is usually AL 6063 specification, which is harder and durable. Longer, due to its higher Cu content, it has strong conductivity. The copper content can directly affect the conductivity and the heat dissipation effect of the heat sink. In our design, Generally speaking,the thickness of the Fin sheet should be considered first , the fin piece is smaller than 0.5mm, the mold is more difficult to make, and the thin fin piece makes the mold gap too small, so that the aluminum extrusion can not achieve the desired effect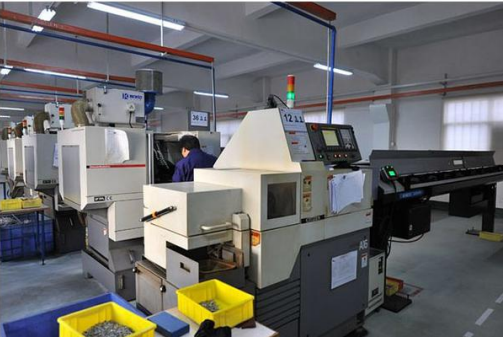 So next we will explain how aluminum extrusion is processed, friction and dynamic balance, aluminum extrusion processing, is to control the effective distance of the friction work to control the size of the total friction, the increase in friction speed reduces the resistance, relatively The discharge speed will also increase, but its accuracy will be reduced. Conversely, it will be difficult to control the quality. Therefore, it is necessary to consider the frictional resistance and the discharge speed in the aluminum extrusion process to ensure a good one. Balance, otherwise it will affect the neatness and shapeability of the heat sink fin