Heat sink can consisted of many types, such like the extrusion, skiving and heat pipe radiators. However the most interested radiators that many people would like use and talk about is the heat pipe heat sink. Due to higher potentiality for innovation, the heat pipe can be changeable with the shape and dimension, it's more flexible if you would like to try new design. Nowadays the heat pipes has evolved into sintered, mesh and grooved typed for different wick structure. Different wick helps improves thermal resistance performance, while our heat sink adopted with higher performance heat pipes for the heat sink in order to increase the cooling capacity but with less quantity of heat pipes.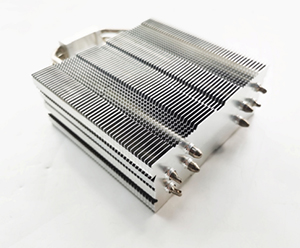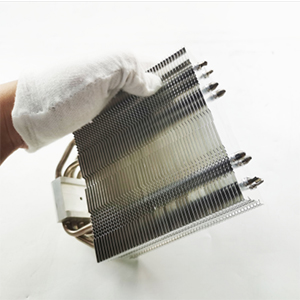 After this design been confirmed and checked, we started making and using with high performance heat pipes, thus new type of CPU radiator with four heat pipes has been birthed, we take care of appearance and soldering, because each process is crucial for final performance, especially in the process of stamping, soldering and CNC machining, stamping we need to make sure the pipes has no deformation and damaged, otherwise this will make products been unqualified. Soldering is the way that affect the thermal resistance, poor quality or less of soldering paste will influence the thermal cooling performance, so this is what we need to consider the soldering amount while putting. The final important process is the CNC machining is for polishing the base touching area, this is for nicely contacting with heat zone, it must to flatten and same size as drawing with strict tolerance controlled.
The CPU radiators finally we've been tested in our lab, that it has the good effect of cooling, we simulated the heat zone to be 220W, and it indicates that flow chart is growing little by little, it is showing that such heat sink can cool down heat from 220W. This is sign that traditional such heat sink can only be 150W, but we broke out of it, We will improve progress and try new more studies to make make the better potentiality of cooling for the heat sinks.